Artist Hannah Cooke is breastfeeding her daughter Ada in different exhibition-like settings to confront negative statements about the compatibility of motherhood and art made by Abramović and Emin.

Jar and Fern create handmade, unique and beautiful terrariums.
Terrarium Workshop

with Jar and Fern

16th of February 2020



Learn the history of Terrariums, how to care for them and the ideal plants to fill them with. You will be provided with everything you need to create your own little ecosystem. Jar and Fern will have a range of plants for you to choose from as well as a large sealable glass jar. They will guide you through creating your own terrarium which will be all yours to take home at the end of the session. This is a great individual or group experience for anyone who wants to learn some new indoor gardening skills. You will leave with a care guide for your terrarium as well as all you need to know about how to make more terrariums as we know they can be quite addictive!

ABOUT THE MAKERS
Will and Madeleine set up Jar and Fern in December 2015 out of a love of all things green and planty. Madeleine has a background in floristry and environmental work and they are both trained in floral techniques and are still constant students in all things botanical. Will and Madeleine believe there is nothing better than watching your own creation flourish and grow. They love teaching guests how to create their own little gardens in a jar and meeting fellow plant lovers.




Textile repairer Molly Martin hosted a day of slow stitching and mindful clothing repair.
Mindful Mending
with Molly Martin

18th/19th of January 2020



In this workshop most beloved and broken garments were repaired using traditional hand sewing and patching techniques, inspired by Japanese boro repair.

During the class Molly shared her extensive knowledge on the history of repair and discuss the mindful and meditative aspects derived from these ancient practices.

Each participant had a small linen patch to work on first as a sample to then move on to the garments that they had brought along.

All participants learned the skills you need to repair and restore your most treasured textiles and enjoy them for many more years to come. Taking these useful and mindful skills home with them forever.

"Nothing is finished, nothing is perfect and nothing lasts" - A Japanese proverb


ABOUT THE MAKER
Molly Martin works as a professional textile repairer, specialising in delicate fabric restoration and Japanese boro repair. She has taught numerous workshops on the art of mending throughout the UK, working closely with slow fashion brands such as egg and Toast. Molly hopes to encourage more people to mend their clothes in an attempt to make a small difference in the ever wasteful fast fashion industry. She says that 'mending can be a tonic; igniting a mindful appreciation of being in the moment. She believes that mending by hand encourages us to slow down and by doing so, the process can help us to reconnect to ourselves and the clothes that we wear.


Smack Tacos is a new Pop-Up in London. Their concept is simple, but effective.
POP UP

Smack Tacos
ongoing

Smack Tacos is a Pop-Up concept from London. The concept is simple – you buy an art print and get free tacos on top. The Pop-Up's mascot TAC MAN is based on the iconic Mexican Taco.
At each of their regular Pop-Ups at Playground London Smack Tacos collaborates with a different street artist who produces their own interpretation of the mascot. Those personal takes can then be purchased on the day and a free taco on the go.
In the past the following artists have been featured:
@ebz_agg
@skwaamslefthand
@haruki.design
@simplesoulart
@maikokoart
@samsoul.35
@jkingtheartist
@

joshuaob.art
@jmsmith_art
@erikaivanova
For more updates follow Smack Tacos on Instagram
@smacktacos
The content of a bedroom studio migrated into the informal setting of Playground London.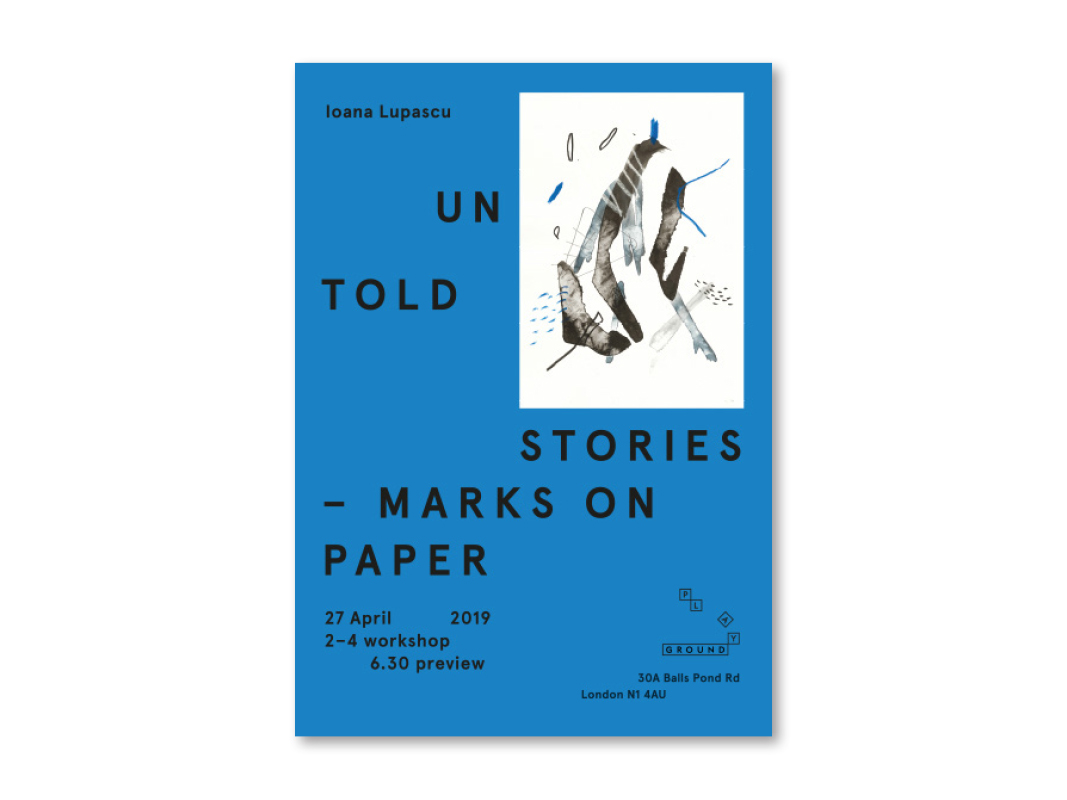 EXHIBITION
Untold Stories, Marks On Paper — Ioana Lupascu

27 of April

Workshop
14.00–16.00

Preview
18.30
Untold stories – Marks on Paper by Ionana Lupascu is a coming out exhibition.
The content of a bedroom studio migrates into the informal setting of Playground London. Methodically covering the walls of the gallery from top to bottom with sketches, drawings and photo documentation, these so far 'Untold stories' are an intimate portrait of Lupascu's fondness for visual composition. Referencing movements from gaga dancing and contact improvisation, strokes, drips and colors find their place as marks on paper. Outside the grid of instagram, she would like to invite you to a one night pop-up exhibition exploring abstractions as forms of release and contemplation.
About
Ioana Lupascu is a London based artist working across art, architecture and design. She is curious about the relationship between the built environment and human interaction. Her primary means of understanding urban spaces has been through a 35mm film camera, followed by a degree in architecture, and most recently, through creative movement. Alongside design, production, painting and photography, Ioana runs speed dating nights, mentors young people, and travels to far flung places. Her current work spans a diversity of media but always seeks to translate places of togetherness into objects, installations and exhibitions.
ioana-lupascu.com
Download Press Relase
Photos by

Cornelia Gaie

,
Tais Sirole, the artist and Playground London